Alfred James was born in London, England, in 1978. He is a mindfulness coach, author and founder of the globally popular Pocket Mindfulness blog.
James has been featured in a number of notable publications, including The Huffington Post, The Guardian, Mindful Magazine and Lifehacker.com.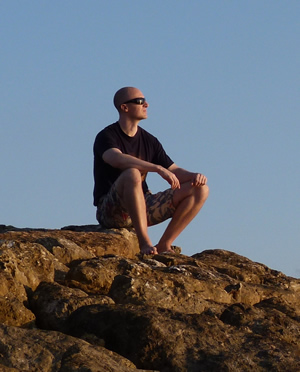 James teaches mindfulness as a pathway to self-acceptance and inner peace, a pathway that helps release the attachment, aversion and desire responsible for the day-to-day suffering of mind that prevents us from discovering true contentment in life.
A qualified Life Coach and student of Eastern philosophy, James has travelled extensively in South East Asia, learning mindfulness meditation from a number of notable teachers, including Sadhguru (Jaggi Vasudev) and Tibetan Dzogchen Lama, Sogyal Rinpoche.
"One vital lesson I've learnt on my journey is that if we allow ourselves to be still for a moment, to stop analysing the past and predicting the future, to stop rushing around, grasping and striving at material things and empty goals, we suddenly gain a clarity of mind that opens a pathway to happiness, contentment and opportunity. There's  great peace to be found in just being and seeing life for what it really is; a series of perfect, beautifully sequenced moments in an interdependent world ".
In 2012, James released Pocket Mindfulness, a tapestry of short chapters that eloquently define mindfulness practice. The book reached the top of the Amazon Kindle spirituality category, and has become a notable source of quotation for many teachers and mindfulness practitioners.
Due to its popularity, Pocket Mindfulness expanded into a series of three short books, with the second volume elaborating on matters of the "self", ego, love, life and death, and the third covering the cultivation of mindfulness through meditation.
"With Pocket Mindfulness, I wanted to capture the essence of everything I'd learnt, while at the same time answering questions I'm regularly asked by others in a very concise, fluid way. For it to have been appreciated by so many people is truly rewarding".
James has since released Mindfulness Exercises, a guide to cultivating mindfulness using a variety of practical exercises.
Alfred James' Pocket Mindfulness series, and his other book releases are available for instant download here.