We all get to a point in our lives where we ask the question:
Am I living the life that I want to live, or the life that I think is expected of me?
Is this the pathway that I would have chosen, or did I just follow along because society says this is a respectable and safe road to travel?
And this is exactly why Lifebook Online by Jon Butcher and Missy Butcher exists: to work out the answers to these questions and create your own life plan.
I have taken this 6-week course and, in this review, I'll share what I thought was great, and what I think could be improved.
I'll also run you through all the the course material, so you can get prior insight on what to expect.
Contents:
About Lifebook
Skeptical
How it works
12 dimensions
Post quest
Pros & cons
Summary | FAQ
Creators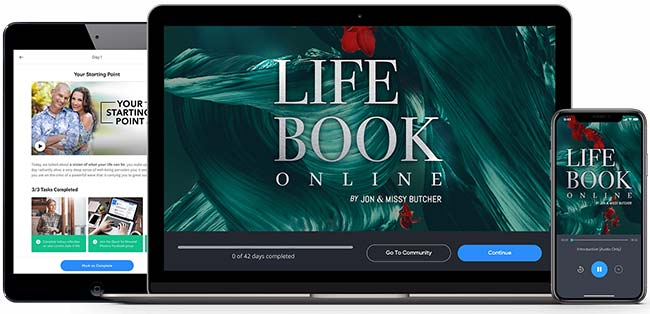 About Lifebook Online
Are you writing your own life book, or are you letting other people write it for you?
This question usually becomes really apparent in our 30s, 40s and 50s, but for some it can be later in life.
Sure, we all have niggling doubts through all stages of life over whether we've made the right decision or taken a wrong turn.
But often it takes a big life event such as a personal loss to really make us sit down and think long and hard about where we've come from, where we're at, and where we're going to end up.
We get to a point where we think:
Am I just a stick in a stream, floating along with the current, with no control over my destiny?
I've certainly spent the last decade asking and answering these questions, and subsequently changing many things about my life.
The thing is, it's a big topic and a very difficult one to address.
That's why so many people don't face up to the doubts in their mind and confront their worries, fears and anxieties and make the necessary changes.
Instead, most people just plod along on the so-called safe path and end up having regrets. We realize that from a mental health perspective, the safe path isn't so safe after all.
The Lifebook becomes your personal pathway. A master game plan tailored to your happiness.
It is your destiny, dictated by you.
You'll build your Lifebook as you progress through the 12 key modules, which I'll get to in a moment.
You'll become very attached to it, as it is deeply personal and represents profound change in opportunity and happiness.
You are essentially creating and manifesting your ideal life.
This is an all-encompassing tool that will help you stop, stand still, re-evaluate and re-centre.
And then devise a plan and move forward.
Skeptical? I was at First
When I attended the free Lifebook masterclass by Mindvalley I was quite skeptical.
There's a fair amount of gushing over how successful Jon and Missy Butcher are, and plenty of praise from Mindvalley founder, Vishen Lakhiani.
This is to be expected, though – it is a promo video after all.
But here's the thing: I'm not driven by money, at least not anymore.
Yes, it would be a wonderful thing not to ever have to worry about money ever again.
But I learned a long time ago that comfort will make things easier, but excess won't make me happy or content.
Doing what you love and what you enjoy on a daily basis will make you happy.
Living a life of authenticity (being true to yourself), instead of pretending to be excited by marketing or selling insurance, will bring fulfillment.
And while it would seem that Jon and Missy are materially successful, Lifebook is not about external excess.
It is about the internal journey, and the material success is a byproduct of this journey.
How Lifebook Online Works
Lifebook Online works by helping you work out what it is you want from life, and how to turn that into a plan – a roadmap, a tangible guide, so to speak.
This is so important because it's easy for us to say what we would like to do, or what we are going to do.
But as I've previously pointed out in my New Year's resolution posts, seldom do these goals and self-promises last more than a few weeks.
Why is that?
It's because we need to dig deeper into whom we are.
We need to take a look at the self-limiting beliefs that prevent us making profound changes in our lives, be that our career or personal relationships.
We need to look at how we perceive the world and how others perceive us.
We need to look at the pressure and expectation that we've been under for the majority of our lives, and the negative behaviors we've inherited from our parents and peers.
We need to consider how our subconscious beliefs have been dictating our lives step-by-step, every day for the past God knows how many years.
It's only when we identify these things and begin to change the way we think and perceive that we can properly start to understand what needs to be done to move forward.
And this is what Lifebook is all about. It is essentially inner-engineering for profound change.
It's about drawing a line in the sand and creating a new narrative for your life.
It's about stepping over that line in the sand and leaving the old you behind, and stepping into the new you: the one that you have always wanted to be.
The 6-Week Program
The 6-week program has two lessons per week, and is delivered through training videos, which includes a great documentary.
The course is hosted on the Mindvalley Quests digital platform, which you can conveniently access on any device.
The Quest platform is inspired by micro-learning, which encourages engaging in daily bite-sized actions and exercises that require minimal effort but amount to greater results.
This makes it more likely that you'll complete the program when compared to traditional course teaching methods.
The videos, presented by John Butcher, guide you through the Lifebook process and can be watched in small segments, so not to overwhelm you.
Coaching Calls
One of the fantastic things about the course is that you actually get to connect with Jon and his wife Missy via a coaching call each week.
If you miss the call you can watch it on catchup. Though I recommend trying to make it live.
This really helps facilitate your progress. Meeting Jon and Missy is hugely motivating and will undoubtedly boost your morale.
They have really positive energy and it is infectious. I think it will inspire you.
Each life category (dimension) comes with a template to fill in, which you can print, bind and refer to each day.
This concept is similar to journalling, which as I've spoken about before is extremely powerful.
The 12 Categories (Dimensions) of Lifebook
Lifebook covers the 12 key categories (dimensions) of life.
You'll learn how to strengthen each of these 12 dimensions and explore the vital and often surprising interplays between each one.
For instance: if you're facing a financial challenge, you might sometimes find that the solution lies not in focusing directly on money or your career but on your intellectual life, or even your life vision.
The 12 dimensions are as follows:
health and fitness
intellectual
emotional
character
spiritual
love relationships
parenting
social
career
financial
quality-of-life
life vision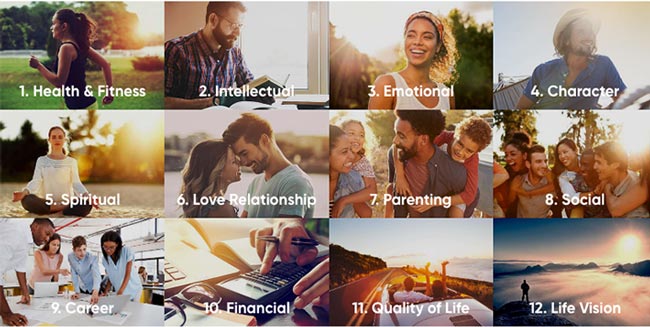 For each category, you are presented with 4 questions:
What are your empowering beliefs about this category?
What is your ideal vision?
Why do you want this?
How will you achieve this?
You can write as much or as little as you like for each one. I generally spent about 35 minutes to cover the questions in my Lifebook.
I'm used to journaling though, so I'm pretty good at this.
If you're not, don't worry, Jon provides sample pages so that you can get an idea of how to construct your answers.
The Life Dimensions System
Each dimension follows a system of discovery, shaping, design, and then connecting with others going through the same:
1. Discover
How well you're really doing in the 12 key areas of your life. Like your career, finances, health, relationships, and more.
2. Shape
A crystal-clear vision of your ultimate success in these 12 key areas of life.
3. Design
An easy-to-follow action plan and strategies for achieving that success in every area of life, without sacrificing anything in the process.
4. Connect
With Lifebook founders Jon and Missy, and other Lifebookers. So you're constantly supported, motivated, and accountable, every step of the way.
The Post-Quest
This is basically a final assessment, in similar vein to the pre-assessment whereby you answer questions and are rated with a score.
This is insightful because you get to see where you have improved the most and how you'e progressed over the duration of the program.
Getting a Lifebook Binder
Once finished, Jon and Missy encourage you to print your Lifebook and bind it properly in a folder.
This is all about accountability. I don't know about you, but once things are store on my computer they tend to get lost with the endless files I have on there.
I just used an old binder I had from university in the Garage.
Having it there on my shelf means I can dip into it and re-center when I stray off path.
It's also a great way to mark the end of the course. It's your reward for the time you put in.
Not to mention that this is a book about you, your life, your goals, your roadmap to happiness.
Lifebook Pros & Cons:
Pros:
I really enjoyed the program and found it hugely beneficial.
Here's a summary of the positives:
The live calls are fantastic and something you will be hard pushed to find on other digital courses.
The pre and post assessment format helps you gauge your progress – very important!
The video content is professional and really engaging. They are split into segments (micro learning) so you can watch one lesson in small chunks.
There's lots of guidance on how to fill in your lifebook, which kickstarts your journey and prevents writer's block.
The Facebook group is really motivating because you can see that you aren't going through this alone and get to communicate with other members.
Cons:
The course is great, but as with everything in life there is always a little room for improvement:
The course runs just twice a year. It makes it quite exclusive but frustrating for those who want to jump in straight away. I had to wait a while to get on it and, for some, this might lead to never actually taking it.
I feel that a course follow up at say 3 or 6 months would be beneficial. This would serve to ensure people stay motivated once they compete the course.
UPDATE: I think the coaching calls are pre-recorded now. I read those words on the website so I assume they don't do them live anymore.
+ Go to the Lifebook enrollment page
In Summary
The bottom line is that money can certainly bring freedom of choice in life and get rid of a lot of your worry and anxiety.
But you'll quickly get used to having that amount of money, just as you have become used to having the amount of money that you have now.
Earning money doing something you are truly passionate about should be the goal. There has to be a meeting in the middle ground.
What matters is what you want out of life:
What is the vision you have for your life, or what is the vision you used to have for your life when you were a child or teenager or in your 20s or 30s?
What happened to those goals?
What happened to that excitement at the prospect of doing something you love?
What happened to your passions?
Did someone tell you all you shouldn't go down that path because you won't make enough money?
Did you convince yourself that it was too risky?
Did you convince yourself that you wouldn't be able to get the type of husband or wife you would like if you made this decision or that decision?
Become the Author of Your Best Life
The reality is this: We constantly talk ourselves out of happiness in life.
We make decisions that are detrimental to our health, happiness and ultimately our prosperity because of our self-limiting beliefs.
I have written about this on numerous occasions, and I am guilty of it too.
And this is why I think Lifebook is such an important program for so many people.
It's a fantastic concept because you are literally creating your own blueprint, not following someone else's.
You are being given the tools to work out exactly what's going on in your head.
From there, you can start working towards the life you really want to live, not the life that you believe others expect you to be living, or the life you feel trapped in.
If you are in a place where you really want to make a change. If you are in a place in your life where you're thinking…
"Is this it? This really wasn't what I had in mind for my life. This isn't how I thought it would play out for me".
If there are specific areas of your life that you are just not happy in.
If you have that feeling inside that there is something more out there for you.
If you feel there is something you could be more passionate about and happier doing.
Then Lifebook is a great place to kick-start that new you.
Whether it's your career, your love life, or your emotional well-being, make a start.
Or perhaps you know where you want to be but you're just having trouble formulating a vision and painting a picture of what this new life looks like.
In this regard, Lifebook Online will take you from a blank canvas to a tangible vision.
It is a really positive experience.
There simply isn't anything negative about taking steps to make profound change. This is everything that I endorse.
Don't let other people, external expectations, and your self-limiting beliefs hold you back from doing what you want to do with your life.
Whether your vision is a simple career change to something that you have always wanted to do, or as elaborate as selling up and moving to another country and starting a new life, Lifebook Online will help you map out a pathway and start taking footsteps in the right direction.
Remember: There is no right or wrong in your vision.
This is your life. It's time for you to start deciding and dictating in which direction it goes.
+ Go to the Lifebook enrollment page
———–
Further Reading…
FAQ:
1. Is Lifebook worth it?
Yes. I got an immense amount of motivation from it.
At 41 and feeling a little lost for direction, I really needed some business and personal life restructuring.
I have a much clearer pathway to follow and feel surer about where my happiness resides.
2. How much is Lifebook Online?
It's free. But you pay a $500 (at the time of writing) accountability deposit when you register.
You must complete the course in time, attend the classes and fill out your Lifebook though, or you won't get your money back.
The catch is that you will only have access to all the course materials for life in you don't ask for the $500 rebate
3. How long is the Lifebook Online course?
It's six-weeks long, with two lessons per week. Plus the coaching calls.
4. How long does it take to fill out your Lifebook?
On average I think it took me about 35 minutes for each section. Sometimes longer.
It depends on the category and your personal circumstances.
I didn't personalize mine with images. If you have more time I think this can be a powerful addition.
5. Is the Lifebook Facebook group helpful?
I'm not huge on Facebook, as you'll know from the infrequency of my posts.
But it was helpful to see others in there who were taking the course and hearing how they were approaching their Lifebook.
It always helps if there is a sense of community. It's motivating to be going through something so personal with others who are on the same road.
6. Did you get the Lifebook rebate?
I didn't. I opted to keep access to all the materials instead.
I know it sounds lame but I felt bad doing that. I'd had the coaching calls and everything that comes with the program, so why I shouldn't I pay?
I got a lot from it that is invaluable. I guess being a creator myself – of music and a book – I feel that people should be remunerated fairly for their work.
That said, the offer is there so by all means take them up on it.
About the Lifebook Online Creators
What's interesting about Lifebook is that it isn't taught by a personal growth teacher per se.
It has been developed by a couple, Jon and Missy Butcher, who are entrepreneurs and partners and have a very successful group of companies – and a successful marriage.
Lifebook Online is the blueprint that they've developed through their trials and tribulations for living a successful, happy and healthy life.
It's actually pretty easy to feel somewhat envious of this couple.
They're in their 50s and still look fantastically young and healthy.
They are running businesses, living in different countries throughout the year, and still creating fantastic memories and most importantly living life on their terms.
For me, far more important than the financial success they've had – because I personally do not buy into the notion that financial success should define personal success – is the fact that they are somewhat rebels.
Indeed if you have been to any of their seminars or seen their videos, they come across as very grounded, spiritual people.
They aren't flaunting wealth or going around saying that everyone needs to become a multi-millionaire.
They are teaching us how to identify what we want out of life and the terms that we would like to live our lives on.
And then helping us develop a tangible vision that gets us there.