Having taken many Mindvalley courses over the years, going way back to when they were a far smaller organization, Lifebook Online has been the most valuable.
It's unique in its presentation and concept, but it's the information and the way it's taught that makes it so good.
Presented by Jon Butcher, Lifebook provides a junction in your life that forces you to stop what you're doing and re-evaluate.
Based on Jon's teachings, life experience and research, you are able to question and analyze your life, and then identify mistakes and key areas for improvement.
You then use the writing of your Lifebook to develop a clear roadmap of how you're going to get from where you are now to the life you really want to live.
Lifebook gets you truly excited about life again, something we could all do with after a very difficult year.
This is my personal Lifebook Online review, which I hope will help you decide if you want to take the course.
I'll share what I thought was great, and what I think could be improved. I'll also run you through all the the course material, so you can get prior insight on what to expect.
Contents:
Lifebook & Me
About Lifebook
How it Works
12 Dimensions
Writing your Lifebook
Community
Pros & Cons
Refund Option
Summary
FAQ
Creators
Lifebook & Me
We all get to a point in our lives where we ask the question: Am I living the life that I want to live, or the life that I think is expected of me?
Is this the pathway that I would have chosen, or did I just follow along because society says this is a respectable and safe road to travel?
And this is exactly why Lifebook Online by Jon and Missy Butcher exists: to work out the answers to these questions and help you create your own life plan.
But here's an important fact: Like your life, the Lifebook never stops evolving.
So despite having finished the course, I am continuously updating the categories in my book with new thoughts, visions, strategies, and beliefs that I continue to develop.
Jon and Missy make it clear that the process being taught are tools for life, and as you go forward you'll use the teachings to continually refine your vision. This is a book about your life that will evolve with you.
My book has become a great motivator. I can look back at where I was at the start of the course, the vision I developed, how far I've come in realizing that vision, and how I have evolved above and beyond my old preconceived limits.
For me, the true value of this course grows over time, with you, as you grow – having learned the valuable lessons that Jon and Missy share.
Note: Don't forget there's a free Masterclass you can take, and there's no obligation to take the course after this class either.
The class is 90 minutes long, so well worth doing. This free class alone will help you shape your life vision, as Jon and Missy share a lot of tips on how to become crystal clear on exactly what you want out of life and then how to put that into action.
+ Reserve a spot at the next free Masterclass here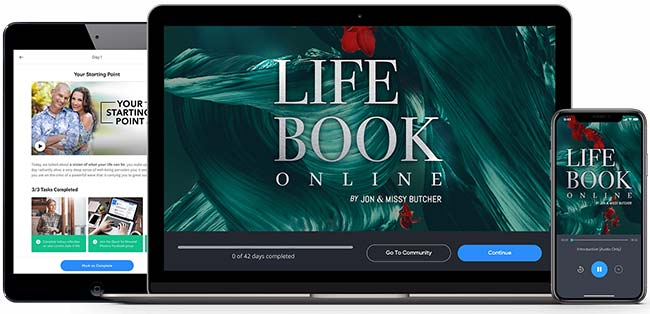 About Lifebook Online
Are you writing your own life book, or are you letting other people write it for you?
This question usually becomes really apparent in our 30s and 40s, but for some it can be earlier or later in life.
Sure, we all have niggling doubts through all stages of life over whether we've made the right decision or taken a wrong turn, but often it takes a big life event such as a personal loss to really make us sit down and think long and hard about where we've come from, where we're at, and where we're going to end up.
We get to a point where we think: Am I just a stick in a stream, floating along with the current, with no control over my destiny?
I've certainly spent the last decade asking and answering these questions, and subsequently changing many things about my life.
The thing is, it's a big topic and a very difficult one to address.
That's why so many people don't face up to the doubts in their mind and confront their worries, fears and anxieties and make the necessary changes.
Instead, most people just plod along on the so-called safe path and end up having regrets. But one day we realize that from a mental health perspective, the safe path isn't so safe after all.
This Lifebook will become your personal pathway; a master life plan tailored to your happiness. It is your destiny, dictated by you.
You'll build your Lifebook as you progress through the 12 categories of the course, which I'll get to in a moment.
You'll become very attached to it, as it is deeply personal and represents your past, present and future.
You are essentially creating and manifesting your ideal life.
This is an all-encompassing tool that will help you stop, stand still, re-evaluate and re-centre, and then devise a plan to move forward.
How Lifebook Online Works
The 6-Week Program
The 6-week program has three lessons per week, and is delivered through video content presented by Jon Butcher.
If you start a course late you will see all the lessons unlocked that you have missed. Don't worry, there's no rush, just start from the beginning and work your way through at your own pace.
The course is hosted on the Mindvalley Quests digital platform, which you can conveniently access on any device.
The Quest platform is inspired by micro-learning, which encourages engaging in daily bite-sized actions and exercises that require minimal effort but amount to greater results.
This makes it more likely that you'll complete the program when compared to traditional course teaching methods.
Getting Started – Pre Quest
The first thing you'll do is the 'warm up'. This involves a pre quest questionnaire: a series of statements that pertain to your current lifestyle in 12 separate life categories.
This is designed to examine factors such as your health and fitness, your emotional outlook, your spiritual fulfillment, your career satisfaction, your relationships and much more. You will be asked how strongly you agree or disagree with each statement.
When you are finished with the assessment, the system will calculate your scores and present you with a detailed Report of Findings. Inside your report, you'll discover:
Your "

Life Quotient

, a single number, personal to you, which objectively quantifies your overall quality of life.
A detailed analysis of where you are in each of the 12 life categories.
Personalized recommendations for how you can improve from here.
There are no right or wrong answers. Only your personal truth, as it exists today.
* All of the information you share is completely private and secure.
The 12 Categories (Dimensions)
Lifebook covers the 12 key categories (dimensions) of life.
You'll learn how to strengthen each of these 12 categories and explore the vital and often surprising interplays between each one.
For instance: if you're facing a financial challenge, you might sometimes find that the solution lies not in focusing directly on money or your career but on your intellectual life, or even your life vision.
For each category there is a structure to follow (see below). First you watch the videos, presented by Jon, and then write in your Lifebook.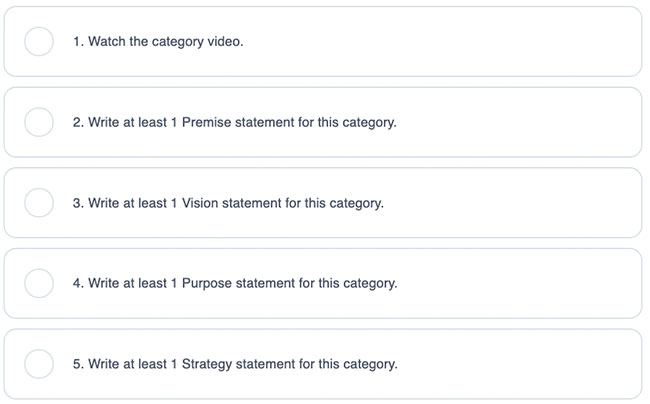 The 12 categories are as follows:
health and fitness
emotional
intellectual
character
spiritual
love relationships
parenting
social
career
financial
quality-of-life
life vision
You may find that some categories don't apply to you. Parenting, perhaps?
Don't worry because you can ignore those. You can also create your own categories in your Lifebook by adapting the templates. For example, I have a creativity category where I log my vision for learning piano and creating music.
Writing Your Lifebook
After you watch the video lesson in a given category you can begin writing in your Lifebook.
You don't need to watch all the content before you begin, so if you feel inspired then start writing in the template provided.
You can spend as much or as little time as you like on your Lifebook, but I recommend setting aside at least 30-60 minutes for each category. You can come back and add things later, too.
You are encouraged to add in your favorite pictures and quotes. Things that are meaningful to you. This is your Lifebook so let your imagination run free. You decide when it is completed.
Your minimum requirement for every chapter is to watch the session video and write down at least 1 Premise, 1 Vision, 1 Purpose, 1 Strategy statement for this category. But you should aim to go way beyond that.
Premise
For each category you will be given a template to download that you can use to fill out your Lifebook.
The template starts with a premise for each category and some key questions, such as those below for the 'emotion' category.
What do you believe?
What deeply held beliefs are shaping your life?
Are your beliefs empowering?
Do they move you at a deep level or are they holding you back?
What is your Premise for this area of your life, or what would you like it to be?
Here's some examples Jon provides of how you might answer these questions in the 'emotion' category:
Achieving excellence in any dimension of life requires high emotional intelligence.
Emotional intelligence is made up of 2 components. Emotional Insight + Emotional Control. Emotional Insight means being conscious of, accepting and learning from my emotions. Emotional control means the ability to create emotions I want in my life.
My emotions are tools of awareness and consciousness – a window into my soul.
My emotions are my guidance system. They help me understand cheater or not my thoughts are in alignment with who I really am.
Happiness is something I decide on ahead of the time.
My emotions are mine, to do with as I choose. When I am able to access my emotions, I am much more effective at making choices, decisions, and commitments.
I believe wholeheartedly that my emotional life is my intuitive guidance from God.
Nobody can create my happiness other than me.
I am my own emotional master chef. I know all the recipes, even the secret sauces of my emotions.
Mastering and maintaining emotional integrity is the key to mastering my life.
Vision:
Your Vision refers to the ideal state you would like to achieve. Ask yourself:
How do you want this area of your life to feel?
What do you want it to look like?
What do you want to be doing on a consistent basis?
Again, you will be provided with statements that you can modify, keep or delete and start fresh.
I see myself as having very high emotional intelligence.
I will become a master at managing my emotional states. I will define and create the emotional experiences I want to feel on an ongoing basis.
I'll let all those positive emotions add up to an extraordinary attitude.
I will consciously cultivate and nurture my highest emotional value – Happiness.
My emotions empower my relationships and my actions. I radiate gratitude, kindness, compassion, sensuality, and balance.
I will acknowledge and respect all my emotions, but I will guide and nurture those that most support the life I truly want to live.
Joy and gratitude are my consistent and natural states.
I will be positive and create tremendous joy and happiness in my life. i will forgive myself, trust myself, encourage myself, and live myself.
I am a master of my emotional states and I will consciously create emotions of high-frequency vibrations.
I can easily choose & control my emotions.
I listen to and learn from my emotions and I integrate the gifts they give me, so I can move my life in a more expansive direction.
I constantly listen to my emotions – not only to gain valuable insights but also to learn and take intelligent action.
Purpose:
Your Purpose refers to the compelling reasons behind what you want in this category.
Describe why you want to make the most out of this area of your life.
What energizes you?
What empowers you to take action?
What motivates you to achieve your Vision?
Again, there are statements provided, but I won't list them all here, as I'm sure you get the drift from the above sections.
Strategy:
Your Strategy refers to the specific actions that will get you from where you are now to where you want to be.
How will you bring your vision into reality?
Ask yourself what kind of positive habits, attitudes and action steps you can implement.
What's the recipe for the Vision you want to create?
Coaching Calls
If you take one of the live courses, which happen twice a year, you will do a weekly coaching call with Jon and his wife Missy.
I was lucky enough to get on a live course but don't worry too much if you don't.
If you do a non-live version you will have 3 pre-recorded calls to watch each week. And any live calls that take place during the year are added to the course so that you get to see all the Q&As.
If you miss the call on a live course you can watch it on catchup. Though I recommend trying to make it live.
This really helps facilitate your progress. Meeting Jon and Missy is hugely motivating and will undoubtedly boost your morale.
They have really positive energy and it is infectious. I think it will inspire you.
Each life category (dimension) comes with a template to fill in, which you can print, bind and refer to each day.
This concept is similar to journalling, which as I've spoken about before is extremely powerful.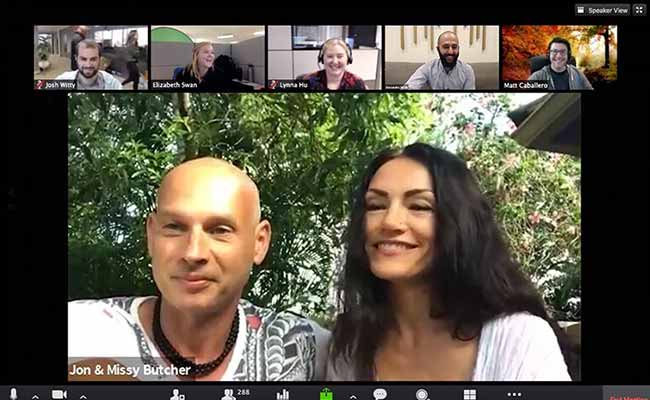 Binding Your Lifebook
Once the course is finished, Jon and Missy encourage you to print your Lifebook and bind it properly in a folder.
This is all about accountability. I don't know about you, but once things are store on my computer they tend to get lost with the endless files I have on there.
I just used an old binder I had from university in the garage.
Having it there on my shelf means I can dip into it and re-center when I stray off path.
It's also a great way to mark the end of the course. It's your reward for the time you put in.
Not to mention that this is a book about you, your life, your goals, your roadmap to happiness.
The Community
There used to be a Lifebook Facebook group where you could connect with other lifebookers, but this no longer accepts members and has been moved to a section within your dashboard called 'Community'.
Here you can connect with the tribe and the tribe leader, who will answer questions you have and provide additional support. There's some valuable information in there from previous students, and activity tends to hot up when a new course starts and lots more students join.
At the time of writing the community has 17048 members, 541 questions and 8111 posts.
Lifebook Pros & Cons:
Pros:
Here's a summary of the positive things about Lifebook:
Very simple dashboard. Super easy to get started and navigate through lessons.
Video content is delivered professionally and really easy to understand. Jon is a good speaker and presenter and makes the course engaging.
The calls with Jon and Missy are fantastic and something you will be hard pushed to find on other digital courses.
There's lots of guidance on how to fill in your Lifebook, which kickstarts your journey and prevents writer's block. I adapted Jon's statements to my own many times.
The pre-assessment is very interesting because, using your own answers, it gives you an accurate insight as to your quality of life.
The Community area is motivating because you can see that you aren't going through this alone and get to communicate with other members.
It's essentially free, if you just want to take the course but not have access to the online materials afterwards.
Cons:
The course is great, but as with everything in life there is always a little room for improvement:
I feel that a course follow up at say 3 or 6 months would be beneficial. This would serve to ensure people stay motivated once they compete the course.
The video calls are only on live courses, so not everyone gets that experience.
Perhaps Mindvalley could partner with a printing company to offer a binder of your Lifebook. While you can do it yourself, it would be cool to be able to order one with a proper cover and perhaps a course certificate inside.
+ Go to the Lifebook enrollment page
Refund Policy
Students can claim a refund within 15 days of the purchase date of the course, but not after that or at the end of the program.
The good news is that you most likely won't want to refund, as this is Mindvalley's most popular course.
The author, Jon, has stated that Lifebook has an 80% completion rate. When compared to an industry average of 15%, that's fantastic.
In Summary
I think Lifebook Online is a hugely valuable course for a simple reason. We, as a society, are so caught up in chasing prosperity in terms of money and material goods that we lose ourselves very easily.
The bottom line is that money can certainly bring freedom of choice in life and get rid of a lot of your worry and anxiety. But you'll quickly get used to having that amount of money, just as you have become used to having the amount of money that you have now.
Earning money doing something you are truly passionate about should be the goal. There has to be a meeting in the middle ground.
What matters is what you want out of life: What is the vision you have for your life, or what is the vision you used to have for your life when you were a child or teenager or in your 20s or 30s?
What happened to those goals?
What happened to that excitement at the prospect of doing something you love?
What happened to your passions?
Did someone tell you all you shouldn't go down that path because you won't make enough money?
Did you convince yourself that it was too risky?
Did you convince yourself that you wouldn't be able to get the type of husband or wife you would like if you made this decision or that decision?
Become the Author of Your Best Life
The reality is this: We constantly talk ourselves out of happiness in life.
We make decisions that are detrimental to our health, happiness and ultimately our prosperity because of our self-limiting beliefs.
I have written about this on numerous occasions, and I am guilty of it too.
And this is why I think Lifebook is such an important program for so many people.
It's a fantastic concept because you are literally creating your own blueprint, not following someone else's.
You are being given the tools to work out exactly what's going on in your head.
From there, you can start working towards the life you really want to live, not the life that you believe others expect you to be living, or the life you feel trapped in.
If you are in a place where you really want to make a change. If you are in a place in your life where you're thinking…
"Is this it? This really wasn't what I had in mind for my life. This isn't how I thought it would play out for me".
If there are specific areas of your life that you are just not happy in.
If you have that feeling inside that there is something more out there for you.
If you feel there is something you could be more passionate about and happier doing.
Then Lifebook is a great place to kick-start that new you.
Whether it's your career, your love life, or your emotional well-being, make a start.
Or perhaps you know where you want to be but you're just having trouble formulating a vision and painting a picture of what this new life looks like.
In this regard, Lifebook Online will take you from a blank canvas to a tangible vision.
It is a really positive experience.
There simply isn't anything negative about taking steps to make profound change. This is everything that I endorse.
Don't let other people, external expectations, and your self-limiting beliefs hold you back from doing what you want to do with your life.
Whether your vision is a simple career change to something that you have always wanted to do, or as elaborate as selling up and moving to another country and starting a new life, Lifebook Online will help you map out a pathway and start taking footsteps in the right direction.
Remember: There is no right or wrong in your vision.
This is your life. It's time for you to start deciding and dictating in which direction it goes.
———–
Further Reading…
FAQ:
1. Is Lifebook worth it?
Yes. I got an immense amount of motivation from it.
At 41 and feeling a little lost for direction, I really needed some business and personal life restructuring.
I have a much clearer pathway to follow and feel surer about where my happiness resides.
2. How much is Lifebook Online?
Lifebook online is $500.
3. How long is the Lifebook Online course?
It's six-weeks long, with three lessons per week. Plus the coaching calls. It works out to 18 hours in total.
4. What if I can't start on the next course start date?
You can start a quest at a later date. Each program starts multiple times a month, so once you enroll you can choose any class start date and see the numbers of students enrolled in that particular class. You can also retake any class anytime.
5. How long does it take to fill out your Lifebook?
On average I think it took me about 35 minutes for each section. Sometimes longer.
It depends on the category and your personal circumstances.
I didn't personalize mine with images. If you have more time I think this can be a powerful addition.
6. Is the Community group helpful?
There's lots of additional information in there and you can ask question. I'm not that big on forum interaction and more of a silent observer, but I found it reassuring to see other who were taking the course and sharing their feelings.
It's just a nice addition to have that makes you feel part of a bigger process and shift of consciousness.
7. Where can I find out more about the course?
I recommend taking the 90 minute masterclass, which is free. This is like a Lifebook webinar that goes through many of the priniciples. Even if you don't go on to take the main course you will still get a lot of good tips for getting your life in order from this class.
+ Sign up for the free Masterclass here
About the Lifebook Online Creators
I left this until last, just in case you want to know more about the authors.
What's interesting is that Jon and Missy are not personal growth teachers per se.
They are entrepreneurs and partners and have a very successful group of companies.
Lifebook Online is the blueprint that they've developed through their trials and tribulations for living a successful, happy and healthy life.
It's actually pretty easy to feel somewhat envious of this couple.
They're in their 50s and still look fantastically young and healthy. They are running businesses, living in different countries throughout the year, and still creating fantastic memories and most importantly living life on their terms.
For me, far more important than the financial success they've had – because I personally do not buy into the notion that financial success should define personal success – is the fact that they are somewhat rebels.
Indeed, if you've been to one of their seminars or seen their masterclass, they come across as very grounded people.
They aren't flaunting wealth or going around saying that everyone needs to become a multi-millionaire, they are teaching us how to identify what we want out of life and the terms that we would like to live our lives on.
And that is a hugely positive mission.