The Power of Awareness course is a 7-week online mindfulness training course developed and presented by renowned mindfulness teachers Tara Brach and Jack Kornfield.
The goal of the course is to help participants cultivate mental clarity, compassion and overall well-being in their lives.
The training is centered around the power of the present moment, which is the place from which our reality is created.
Our work lives, relationships, and our home lives are all created and fueled by the thoughts, feelings and actions that occur in our lives on a day-to-day basis.
The thing is that we aren't necessarily aware of these thoughts, feelings and actions and the impact that they have.
By understanding and learning to cultivate mindfulness in our lives we become better equipped to create the life that we dream of.
That doesn't necessarily mean becoming a millionaire or any other material aspect of life – though stability is of course something that we all aspire to – but rather contentment and peace within ourselves, with our friends and family and those we interact with on a daily basis.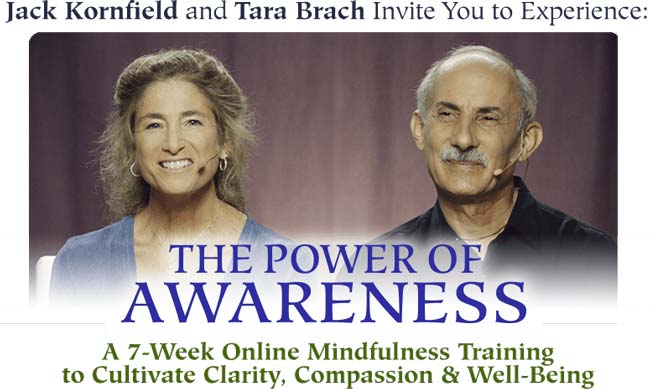 The Power of Awareness Course Details
I'm a big fan of the Sounds True catalogue and took this course in 2018, with the intention of writing about it for my readers.
The course covers a huge amount of detail and by the end you will have learned valuable mindfulness skills and tools that will help you in the following key five areas:
1. Healing
How to cope with your emotions, feelings and thoughts in everyday life, and indeed address those past experiences holding you back from living out your potential.
Healing has to be the beginning of this course, because we need to understand the healing process and how it is possible to move forward without constantly being dragged back into the past.
2. Centering
You will learn to stay calmer and more focused and balanced in your daily life, helping you to make better decisions and have greater effectiveness over external circumstances.
3. Presence
The majority of us live our lives on a reactionary basis: As interactions and problems arise in our lives we respond to them with autopilot reactions that aren't always conducive to creating a positive outcome.
The Power of Awareness helps you learn to stop reacting in this habitual way and instead to slow down your responses and bring presence to any given situation.
4. Connection
In the connection week you will work on improving the relationships in your lives. You'll learn how to improve the quality of your interaction with those closest to you, those in the workplace and the people you encounter in other areas of life.
5. Expansion
Expanding your consciousness will enable you to tap into a limitless source of loving awareness that you can share with the world, but also give to yourself to feel more content with who you are, and to appreciate the opportunities and talents that you have been blessed with.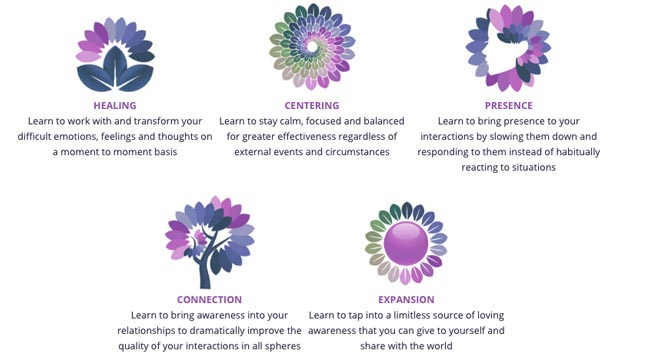 Meditation Practice with Tara Brach & Jack Kornfield
One of the cornerstones of the course is a meditation practice that concludes each weekly teaching.
Don't worry if you are new to meditation, and perhaps not yet a big fan. These are 15-minute meditations that will introduce you to the experience and how it can help you bring calmness, peace and greater compassion to your life, not to mention reducing stress and anxiety levels and promoting inner healing.
In addition to the teachings you will receive guided meditations to help deepen your practice.
So you won't just be sitting there meditating on your own but rather you will have guided meditations with the narration to help you engage. Jack and Tara will guide you through a number of different topics through the weeks.
On a personal note I know that meditation is a wonderful gift to give yourself. Often people from the outside view it as a chore, something you have to fit into your day and that interferes with your schedule.
We are so used to go-go-go that taking a moment out to recalibrate seems alien.
But actually it is a gift to yourself. Like you would treat yourself to a massage, or a drink at the end of the week, meditation is a natural healing process that you can engage with at any time to re-centre your mind and bring about a sense of oneness and peace with the world.
Meditation is possibly the best addiction one can acquire a life.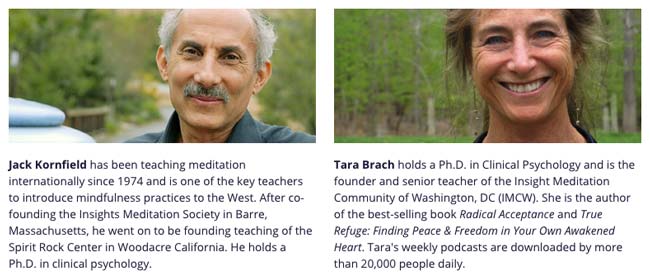 + Register here for Power of Awareness
Power of Awareness Weekly Program
The course covers a broad curriculum, so I'm not going to list every aspect in this review. If you want to read a full rundown then you can visit the Power of Awareness course page by clicking the link above.
However, here's a brief overview of each week:
Week 1: How to Establish Your Practice and Awaken to Your Body
Week 1 covers the basics of mindfulness practice and the foundations of conscious breathing. I incorporate breathing exercises into my daily schedule and they really are invaluable in remaining present and coping with challenging situations in life.
Week 2: Mindfulness with Your Emotions & freedom with Your Thoughts
In week 2 you will start to bring mindfulness practice to your emotions, thoughts and feelings and learn how you can use your emotions to support and guide you through life, rather than allowing them to habitually control you.
Week 3: How to Work with Difficulty in Your Life
For me this is one of the most important weeks of the course. The large majority of us are suffering from some trauma or fear, or some past negativity that is holding us back from truly being able to embrace and enjoy life.
Week 3 will help you learn to cope with the overwhelming feelings that come with trauma, loss, fear and general difficulty and hardship in life. You will learn tools to break free from reactivity and learn how to consciously respond in your life.
Week 4: Expanding the Love for Yourself and Others
This leads nicely on from Week 3 because the trauma and negative experiences we have had in the past cause us to feel guilt and often dislike for ourselves. We struggle to move forward because we self-blame and internalize situations even though they aren't our fault.
Expanding love is a self-forgiveness journey that gives you the healing power of loving-kindness to forgive yourself and others and to cultivate compassion in your life.
Week 5: Creating Mindful Relationships
Again, this follows nicely from the previous week because now you can put these things into practice and start using the skills of mindfulness to deepen and strengthen your bonds with others.
Many of us have fractured relationships with family members; quite often our parents or partners.
Even though we might be on talking terms there are unspoken about areas of animosity over things that have happened or the way family members react or judge us. Or perhaps you have problematic relationships with old friends or even your siblings or children.
This week concentrates on developing a mindful communication style that seeks to nurture relationships rather than harm them further, which is easily done when we try to speak about difficult issues with people but voices are raised and tension escalates.
Week 6: Bring More Awareness into Your Daily Life & Care for Our World
Week 6 is about influence and your role within  your immediate circle, your community and the wider world.
How can you take everything you've learned on this course and extend your present, loving-kindness to others so that they can benefit from similar healing?
This week ties everything together as you enter that realization the world is interdependent and that we all have a very unique role to play in not just our own lives but that of everyone else's.
Week 7: Power of Awareness Half Day Personal Retreat Experience
This is a very special and personal way to end the course. You will press what is known as a "sacred pause" on your everyday reality – which is the life you have been used to – to create a new space for intuition and insight to flourish in your life.
You will learn about the importance of slowing down, walking meditation, healing and relaxation and releasing your inner judge. This concept is something that you can take with you  once the course is over and integrate into your life at different intervals.
A personal retreat can be taken at any time. It could be scheduled as part of your week, or it could just be that you have a planned set of rituals that you engage in when you feel stressed, anxious, fearful or like you're not being present enough in life.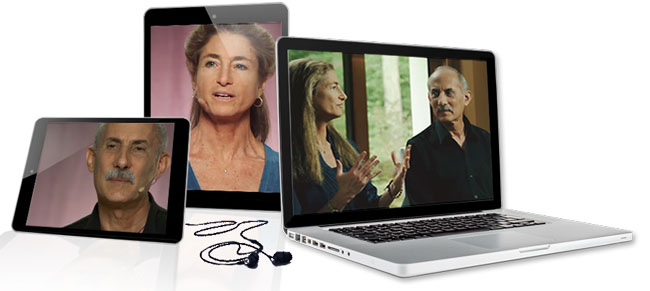 + Register here for Power of Awareness
Community Mentoring
As part of the course you will be able to ask questions and voice your struggles and realizations to mentors chosen by Jack and Tara.
The calls are offered on different days and times each week so you can select availability that suits you.
There is no limit to the amount of calls that you can participate in, which is really great because it gives you the opportunity to deepen your understanding of the teachings and to release your thoughts and energy through others who understand what you are learning and potentially going through.
Your Certificate of Completion
When you finish the Power of Awareness online course you will receive a certificate from the UC Berkeley's Greater Good Science Centre and the Awareness Training Institute (ATI). The Greater Good Science Centre study psychology, sociology and neuroscience of well-being.
Also note that the course gives you 19 continuing education credits (CE). These are mandated by US states and professional organizations for members of certain professions as part of a license or certificated renewal process.
These are generally valid for counsellors, social workers, and psychologists. So if you are going to any of those fields, or considering that might be a pathway for you in the future, these credits will be valuable going forward.
Extra Course Value
In addition to the certification of completion you also receive guided meditations for self-healing by Jack Kornfield, and meditations for emotional healing by Tara Brach. You can download these and import them to iTunes (or whatever player you use).
Power of Awareness Pricing
There is a single payment option and a payment plan option. On the single payment option you can currently save $100 on the next course date, which is priced at  $397, so you will pay $297. Or you can make three monthly payments of $107.
The course comprises over 9 hours of video teachings, and the additional meditation audios, the meditation practices, the weekly community mentoring sessions, membership to the online community and personal journalling exercises too.
Consider that if you were to go away and do a similar course at a meditation retreat, in addition to your travel expenses you would easily be looking at $1500 plus+.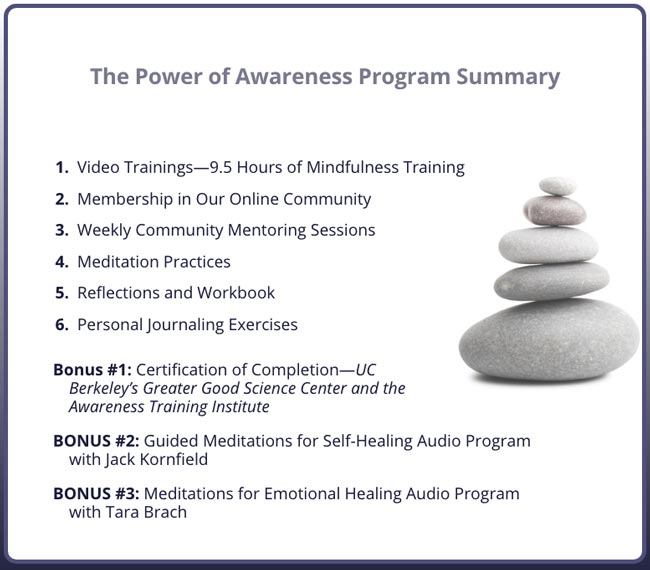 In Conclusion
I loved this course. But I'm probably biased because I think Jack Kornfield and Tara Brach are amazing mentors who have brought so much peace and joy to so many people.
To have both of these mentors curating and presenting this course, with their over 40 years of experience in not just clinical psychology but mindfulness practice, makes it so valuable and so worthwhile.
I know for some the price will be somewhat restrictive, especially if your monthly margins are tight. But I also think it's worth pointing out how much group sessions locally, or even therapy costs.
Many years ago when I saw a counsellor it was in excess of $80 a session. So you get less than four sessions with a counsellor at the discounted price of this course. It is a great personal investment; something that'll assist you greatly on life's journey.
The video content itself is as you'd expect very high quality, and of course accessible from any of your devices.
You can also access your personal online journal at any time, and of course your Power of Awareness reflections coursework book which is a private course book designed for you to document your answers and thoughts and refer back to it as needed.
The beauty of course like this is that the content is all very practical. You are consistently being give techniques and tools that you can integrate immediately into your own life and make a positive difference.
Jack and Tara lead you through the course like a journey, using stories, quotes and inner-engineering practices to deepen your understanding of mindfulness.
What you will notice specifically is that you start the course in a projective state, living in your every day external mode. But as the course goes on your mind naturally starts to shift inward as you literally start to reconnect with yourself.
Any mindfulness/meditation/ self-awareness training is always valuable and generally leaves you feeling far more positive and better equipped to deal with your inner struggles and the difficult situations that arise in life.
However, with such a well structured course by two so very experience teachers, the Power of Awareness has a far greater reach, leaving you feeling truly vibrant and alive.