In today's digital age, it can be challenging to engage kids without screens. Games on a tablet, such as Roblox and Minecraft, stimulate dopamine in the brain and offer instant gratification.
In contrast, games in the real world involve working towards a goal or using your imagination to reach a state of fun, contentment, and happiness.
In short, it's much easier to just sit and scroll. The problem is, it's not healthy.
As parents, we want to limit screen time and sometimes even ban it altogether, but it can be difficult.
Why? Because the world our kids are growing up in is centered around screens. From gaming and videos to films and online shopping, even learning at school, it's all online through a screen.
Moreover, it can be hard to ban screen time when your child's friends are playing online. You don't want your child to feel left out at school when the topic of conversation is centered around what's happening online.
However, a healthy balance has to be established, and here's why:
Physical health: Spending too much time on screens can contribute to a sedentary lifestyle, which can lead to obesity and other health problems.
Mental health: Research suggests that excessive screen time may be linked to anxiety, depression, and other mental health problems.
Sleep disturbances: The blue light emitted by screens can interfere with the production of melatonin, a hormone that regulates sleep, making it more difficult to fall asleep and stay asleep.
Social development: Kids who spend too much time on screens may have difficulty developing social skills and building relationships with others.
Academic performance: Excessive screen time can interfere with kids' ability to focus and learn, which can negatively impact their academic performance.
The good news is that there are plenty of activities that you and your kids can enjoy without technology, and the best part is that they are free!
Here are 20 fun things you can do with your kids that don't involve screens.
20 Fun Things to Do With Your Kids, Without a Screen!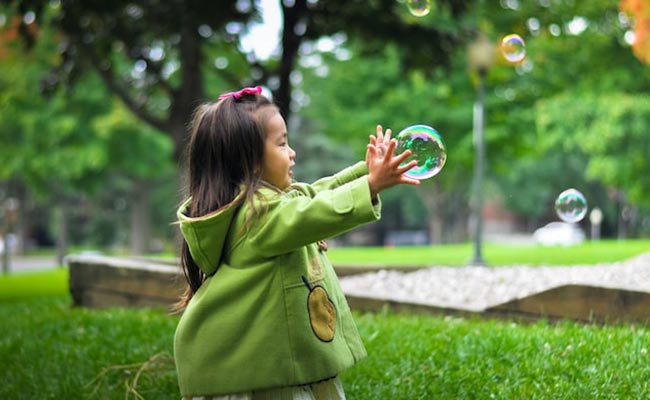 1. Have a Family Game Night
A family game night is a fun way to spend time with your kids without screens. You can play board games, card games, or even create your own games. It's a great way to bond as a family and to teach your kids valuable skills like strategy, teamwork, and problem-solving.
2. Go on a Nature Walk
Going on a nature walk is a great way to get some exercise and fresh air while exploring the natural world with your kids. You can make it more fun by playing a game of "I Spy" or by having a scavenger hunt.
3. Build a Fort
Building a fort is a classic childhood activity that is both fun and free. You can use blankets, pillows, and furniture to create a cozy space for your kids to play or read.
4. Bake Cookies or Make Homemade Pizza
Baking cookies or making homemade pizza is a fun activity that your kids will love. It's a great way to teach them about measuring, mixing, and following directions, and they get a tasty treat at the end!
5. Have a Picnic
Having a picnic is a fun way to enjoy the great outdoors with your kids. You can pack a lunch or snack, a blanket, and some games or toys, and head to a nearby park or beach.
6. Paint Rocks
Painting rocks is a fun and creative activity that your kids will enjoy. You can use acrylic paints or markers to create designs, and then hide the rocks around your neighborhood for others to find.
7. Have a Dance Party
Having a dance party is a fun way to get moving and release some energy. You can create a playlist of your kids' favorite songs and dance together in your living room.
8. Make Slime
Making slime is a fun and messy activity that your kids will love. You can find recipes online using ingredients like glue, borax, and food coloring.
9. Do a Science Experiment
Doing a science experiment is a fun way to teach your kids about the world around them. You can find easy and free experiments online using household items like baking soda, vinegar, and food coloring.
10. Read Together
Reading together is a great way to bond with your kids and help them develop a love for reading. You can take turns reading aloud, or you can read to your kids and ask them questions about the story.
11. Have a Water Balloon Fight
Having a water balloon fight is a fun way to cool off on a hot day. You can fill up balloons with water and then have a friendly competition with your kids.
12. Go to the Library
Going to the library is a great way to find new books to read and to spend time with your kids. Most libraries offer free programs like storytime or craft activities.
13. Play Charades
Playing charades is a fun way to get your kids moving and thinking creatively. You can act out a variety of themes like animals, occupations, or movies.
14. Have a Scavenger Hunt
Having a scavenger hunt is a fun way to challenge your kids and encourage them to explore their surroundings. You can create a list of items to find or use pictures for younger kids.
15. Create a Family Time Capsule
Creating a family time capsule is a fun way to preserve memories and create a sense of history. You can have each family member contribute items like photos, letters, or small trinkets, and then bury the capsule in a
16. Make Homemade Playdough
Making homemade playdough is a fun and inexpensive way to create a sensory experience for your kids. You can use ingredients like flour, salt, and food coloring to create different colors and scents.
17. Have a Family Movie Night
Having a family movie night is a fun way to spend time together and bond over a shared experience. You can create a cozy atmosphere with blankets and pillows, and make some popcorn or snacks to enjoy.
18. Play a Sport
Playing a sport with your kids is a fun way to get some exercise and teach them valuable skills like teamwork and sportsmanship. You can play a variety of sports like soccer, basketball, or tennis, depending on your kids' interests.
19. Create Art Together
Creating art together is a fun way to spark your kids' creativity and imagination. You can use a variety of materials like paint, markers, or clay to make different types of art, and display the finished creations in your home.
20. Volunteer Together
Volunteering together is a fun and meaningful way to teach your kids about the importance of giving back to the community. You can volunteer at a local food bank, animal shelter, or community center, and make a positive impact in your neighborhood.
In Summary
There are plenty of fun and free activities that you can do with your kids without screens. From a scavenger hunt to painting rocks, these activities will help you bond with your kids, teach them valuable skills, and create lasting memories.
It' also worth remembering that not all screen time is created equal. Some screen time, such as educational activities or video chats with family members, can be beneficial. However, it's important for parents to monitor and limit their children's screen time to ensure that it's not negatively impacting their health or development.