I remember joining my first dating site.
It had been a while since I'd been in a relationship, and with internet dating all the rage, "why not"? I thought
Besides, I was busy with work and it seemed like an efficient way to skip past the chance bar and party encounters and quickly funnel my way to some dates with real potential.
It didn't go to plan.
After days of pouring over matches, I found myself thinking, "Is it me, or is there no one out there like me?"
Don't get me wrong, I wasn't looking for a carbon copy of myself, but no one seemed to have the same outlook on life, and very few of the same interests – at least no one within a 25 mile radius!
To be honest, at the time it left me feeling more hopeless than hopeful.
Sound familiar?
Eleven years later and I'm happily married now, but I still see many of my single friends struggling with that same dilemma.
Dating sites, despite their marketing ploys are essentially a catchall for singles. They are built on the basic precept that if you put a bunch of single people together they will naturally fall in love/hook up, just because they are single.
Its a numbers game.
It's like when a friend introduces you to another single friend: just because you're both single, the expectation is that you will fall in love.
Life doesn't work that way, at least not for us advanced, critically-thinking apes.
So, where am I going with this…
Well, just recently, while out with a single friend, she mentioned her recent foray into the world of "mindful dating" – on a site called MeetMindful.
Knowing that I'm into this "mindfulness stuff", she gave me a tour on her phone.
I was impressed, and jealous, I might add. I wish this platform had been around when I was dating!
Long story short, she's really taken with it and has already met two potential suitors.
What also interested me is the fact that you can meet friends on there too.
Sure, the main pull (no pun intended) is dating, but there's a community vibe to it that allows those who are married, in a relationship or not looking for love to find friends with similar mindful interests.
And seeing as my blog is all about mindful living, I immediately felt compelled to tell my singleton readers about it.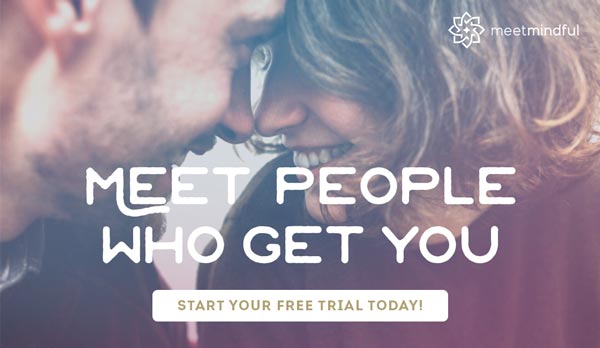 What is MeetMindful & This Mindful Dating Concept?
MeetMindful is a dating site for those who live life with a mindful and passionate outlook.
Those with an awakened mind that's open to learning and self-development; those that want to live life positively and explore the opportunity and potential in life; those who are compassionate and kind, health conscious perhaps.
It's a place for creative types, spiritual types, mindfulness types, worldly types, travel types…
It's for those who "live alternatively" in various ways: those who practice meditation, spirituality, eat healthily, enjoy fitness, nature and green living, volunteering, self-development… you get the picture.
Of course you don't have to be into all or even half of those things; perhaps you just have a yearning to meet someone who wants more out of a relationship than a few beers and a movie on the sofa.
Don't get me wrong, there are plenty of people on there who still enjoy a beverage or two, and even a smoke!
For example: Let's say you're a vegan ,who enjoys meditation but also a glass of wine or two on the weekend, and wants kids some day.
Or perhaps you're a Christian who smokes weed occasionally, is anti-fracking and likes camping in the great outdoors!
The cool thing about MeedMindful is you can filter matches for these types of thing.
The general emphasis is on truly living life: being present, being happy, exploring opportunity, embracing the world and yourself.
It really is a fantastic platform. It's international too, so you can use it whether you're in the UK, US, Australia or anywhere else.
What to Expect on MeetMindful
In their own words:
MeetMindful is more curated than other mainstream dating apps and sites, particularly those offering free messaging. Trust us, we've tried them all. At the end of the day, we were tired of superficial profiles, and unsatisfied with casual encounters (and ghosting).  So we created what we were looking for ourselves.
Okay… so, to do a proper review for you, I had to set up a profile and find a match. But don't worry, my wife knows!.
It took me about 10 minutes to do, which is pretty quick. Man, I remember those endless pages I had to fill out back in my online dating days. I'd sit there, mind blank, writing, deleting, editing.
Honestly, I found MeetMindful super-easy because I felt like the platform was tailored for me. And that's the key benefit here.
You're able to easily include and exclude the lifestyle choices you want your matches to have. You'll see what I mean in the screenshots below.
I also liked the fact that I could skip what I didn't want to fill out immediately and get onto viewing profiles. Let's face it: the determining factor as to whether you stick around or not is whether you see potential dates in other members.
Here's an overview of the profile process you'll go through when you sign up:
My Perfect Match!
Okay, so this is a hypothetical exercise, but I was very impressed by the matches returned.
A few hadn't bothered to write much, but some were compelling and really struck a chord with me.
Below is the profile of my favourite match. I have blurred her face and name out to protect her identity.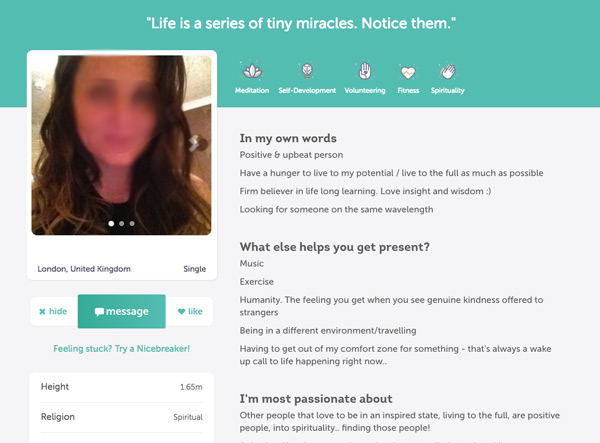 What attracted me to this particular person?
Great quote used at the top of her profile
Has a thirst for wisdom
Likes music and exercise
Likes travel and exploring outside of her comfort zone
She wrote about kindness, love and positivity in her profile
She has a wonderful smile!
But hey, I'm married. Ha!
Seriously though, I hope this gives you some insight as to the kind of people you can expect to meet, and indeed the concept behind the platform.
In a nutshell, it's a dating community for the conscious world: a place for "awoken" people to connect.
What If I'm Travelling & Want to Find a Match?
This came to mind because so many people travel around these days, be it relocating for work or taking a gap year or sabbatical.
The platform uses geolocation to know which country you're in and find matches in your local community. However, it doesn't track your location as you move around, so your browsing location does not automatically update when you travel.
If you're travelling and want to find local matches you can change your location, but they ask that in the spirit of authenticity you add a note to your profile indicating your true location.
I'm Not Single But Want New Friends, Should I Join?
Yes. As I mentioned previously, while the main marketing is aimed at single people, the MeetMindful concept is all about bringing together people who have similar mindful living interests.
You can state that you are married or in a relationship on your profile, and explain explicitly that you are looking for friendships.
I've actually been thinking about this myself. I now live in an area where I have none of my old friends around. It's a lovely place to live for my daughter but my social life has taken a tumble.
When you sign up, you'll be given two free days of premium membership anyway, so you'll have plenty of time to see whether there are potential friends to connect with in your area.
How Much Does MeetMindful Cost?
The good news is that it's free to join and register a profile.
A free MeetMindful account enables you to complete a detailed profile with up to 6 photos and a questionnaire, and allows you to view 10 daily matches.
You can like up to 3 of your daily matches, and if they like you back, you can message them for free and start the connection!
I think this is pretty cool because it means unlike the restrictions on other dating platform you can test-drive the main features and decide if it's for you.
Here are the 4 key benefits of premium membership:
Message and like unlimited matches
Advanced filtering to find better matches
See your admirers (those who like your profile)
Faster customer support
*Free and Premium members receive MatchMaker emails during the week that show you new matches who have signed up in your area.
How to Sign Up & Get Started
It's really easy to get started. You can register with your email address and a password, or use the connect with Facebook feature which doesn't require an email address.
The platform doesn't post to your Facebook wall or look at your pictures; it's just an easy way to get started without having to remember another password. Regardless, I used my email address, as I always do.
The next step is to begin creating your profile. Help boxes will assist you along the way, with tips on what type of photo to upload, etc.
That's all there is to it. It's simple, streamlined and, well, mindful!
I must admit, I had a lot of fun browsing around and pretending to be single for the duration of this review.
Mindful dating. What a great concept.
I'm back to being married now (hehe), but I wish you all the best in your quest for a partner who ticks your mindful boxes – and I hope you found my review useful.